LOGAN SQUARE — Asian-inspired burger joint Mini Mott, the little sister to popular Wicker Park restaurant Mott Street, closed this summer after a four-year run on Logan Boulevard. But the owners didn't abandon the Logan Square restaurant — they just shifted gears.
The owners revived the restaurant a few weeks later as Second Generation, a full-service restaurant that pays homage to their Asian-American heritage, serving an elevated and expanded menu.
Second Generation, 3057 W. Logan Blvd., quietly opened last month with a menu of Asian-influenced dishes from chef and co-owner Edward Kim, including misoyaki eggplant, katsu chicken, kalbi steak fries and the now famous Mott Street burger.
The restaurant's name is an acknowledgment that it is the owners' second restaurant in the Logan Boulevard storefront, and also a nod to the owners' background as second-generation Asian Americans. As at Mini Mott, the family photos of the owners occupy one of the walls of the restaurant.
"It really encompasses our lived experiences: we are Americans. We're also Asian Americans, and we're also Chicagoans. This explains how we operate in our restaurant world and in our communities. It's just a part of us," said co-owner Vicki Kim.
Vicki Kim opened Mini Mott, a counter service outlet, with her brother, Edward Kim, and sister-in-law, Jennifer Kim, and their business partner and collaborator, Nate Chung, in 2018. The restaurant was a spin-off relaxed. of Mott Street, 1401 N. Ashland Ave.
Edward Kim's highly sought-after Mott Street burger, made with American cheese, sweet potatoes, jalapeno pickles, hoisin aioli and miso butter, was the star of Mini Mott.
"With the influx and demand, it made sense for us to open a burger restaurant," Edward Kim told the Tribune before opening Mini Mott. "It looks like people want it, so it would be silly not to give people what they want."
Mini Mott was a hit, Vicki Kim said; the Mott Street burger was a hit, along with other menu items such as katsu sando, garlic confit fries and taiyaki ice cream cones.
But Vicki Kim said they still had their eye on opening a full-service restaurant in space, and that momentum only grew as the pandemic continued.
"We had this desire to change things, to evolve," she said. "We felt that desire, and it didn't go away, so we were like, 'Let's go. ""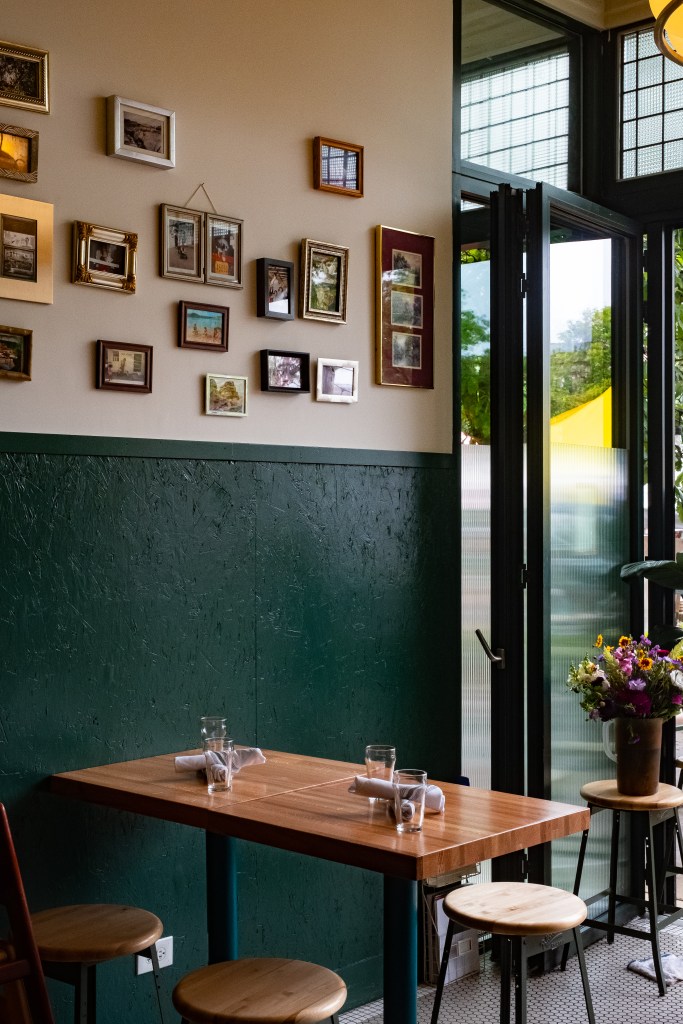 It took owners about three weeks to convert Mini Mott to the second generation with the help of designer Mike Duesenberg. The sit-down restaurant has multiple dining areas, including a semi-private "reading room" out back with magazines for guests to peruse. Its menu pays homage to the owners' Asian-American roots.
Vicki and Edward Kim are second-generation Korean Americans, while Nate Chung is second-generation Chinese Americans.
"It's American, it's Asian American, and it's Chicago, and it's told through the lens of our personal experience," Vicki Kim said.
"Maybe other people didn't grow up on chicken katsu. …Nate grew up in Hawaii, so when he first tried the chicken katsu we brought out, he was like, "This is childhood. In American culture, what is childhood? Chicken tenders. …everyone understands juicy, fried chicken breasts.
The second generation is decidedly less casual than Mini Mott – and a testament to Edward Kim's extensive culinary training. But Vicki Kim said she wanted the restaurant to feel "accessible and approachable".
"We want to be a place that's a neighborhood place, where people feel like they can come a few times a week if they want to," she said.
At the end of the service, chefs usually ask other restaurant employees if customers like their food. But Vicki Kim said that's not what her brother wanted to know. He always asks if people are having a good time, she says.
"We don't want people to go there and worship the food. We want people to have a moment of respite, to feel cared for," she said.
Listen to "It's Alright: A Block Club Chicago Podcast":