RIVER NORTH – Paige Ruhnke was walking her dog on the lakeside flyover near Navy Pier in May when she said a man on a one-wheeled electronic skateboard reached under her shorts, groped her by behind and ran away laughing.
Ruhnke said she did not initially report the assault, but posted on Nextdoor, a community forum website, to warn neighbors. Soon, other women were reporting similar attacks while walking around downtown.
Now police have issued a community alert asking for the public's help in locating the man they say groped or fondled at least two other women, once in June and the other on Saturday. Police said the man was seen wearing a white helmet, sunglasses and riding a one-wheel motorized skateboard. He was last seen wearing a blue polo shirt, backpack and blue jeans, police said.
Neighbors – comparing notes of attacks they witnessed or suffered, as well as photos they took – say they believe the same person is responsible for even more assaults and have galvanized to find the man.
A neighbor who said he spotted the man recently followed him to the trendy River North Sunda restaurant at 100 W. Illinois St., where someone ushered him in through a backdoor. Restaurant chefs said the man was not employed at the restaurant.
Despite the 911 call, police were not dispatched to the scene, the neighbor said, outraging those desperate to stop the attacks.
The fumbling comes as Wicker Park and West Town have also been battling sexual assaults for nearly a year.
"People might think oh, it's just a slap in the ass…but until it happens to you, being touched by a stranger like that, and mostly whispering in your ear and shaking your body or your genitals. It's traumatic," one groped victim told South Loop.
One of the attacks happened around 10:15 a.m. Saturday in the 1100 block of South State Street, police said. In the case, an unknown man riding a one-wheel motorized skateboard approached a woman from behind and touched her buttocks and genitals, police said.
Police suspect the same person struck a woman around 10:15 a.m. on June 1 in the 400 block of West Lake Street, grabbing her buttocks and genitals before fleeing on her motorized skateboard.
Residents say they spotted the man groping women downtown just last week.
Loop resident Adrian Gutierrez told the Block Club he was walking his dog on the east side of Michigan Avenue near 9th Street around 5 p.m. Thursday when he saw the stranger slowing his skateboard. The man then grabbed a young girl's buttocks and then groped another woman about 30 feet away before running away, Gutierrez said.
One of the victims appeared to be a minor who began "crying hysterically" to her mother, Gutierrez said. Gutierrez tried to chase the man but couldn't catch him.
About an hour later, the woman attacked in South Loop said the man approached her as she was crossing the street in Michigan and Roosevelt. The woman, who did not want to be named, said he whispered something in her ear and grabbed her buttocks hard before walking away.
"I could literally feel his breath and he whispered something but I couldn't understand…he just continued with a smile…honestly I didn't want to make a scene because it was so crowded and I was in shock," she said. said.
The attacks have the community on high alert as residents frantically share sightings and photos of the man on Nextdoor in a bid to catch him.
An Escape to Sunda
The man was last seen on Monday morning by resident Mike Perrino, who spotted him heading north by the lake. Perrino, who was on an electric unicycle, followed the man.
"He immediately became very hostile. He somehow reached into a pocket to make it look like he had a gun. He did not do it. He told me to be careful," Perrino said.
The man tried to lose Perrino, but Perrino kept following him. He eventually turned into an alley, sounded the back door buzzer at Sunda New Asian, and was let in by someone from the restaurant, Perrino said.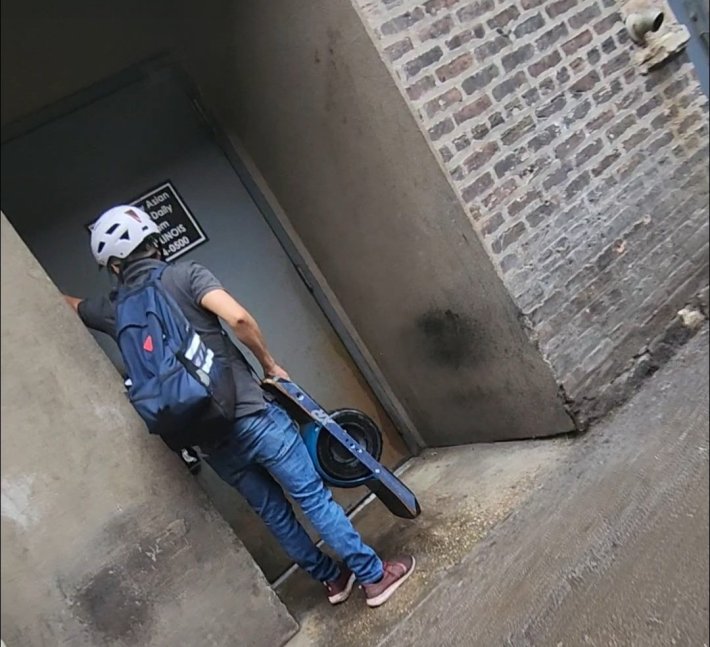 A Sunda employee walked out when Perrino walked past Sunda, Perrino said. When he asked the employee about the man, he was told he had escaped through the back door, Perrino said.
During the chase, Perrino said he called 911 to report he was following a man believed to be responsible for recent fumbling in the area. The operator said he was tracking his location, so Perrino ended his call, he said. He called back when he got to Sunda but was hung up, he said, and the police did not show up.
In an Instagram message between one of the victims and Sunda chef Michael Morales, Morales said the man was able to sneak into the building while a delivery driver was making a delivery. He then said the man ran through the dining room and ran out the front door.
"Please let everyone know that we are not associated with him in any way," Morales said in the direct message.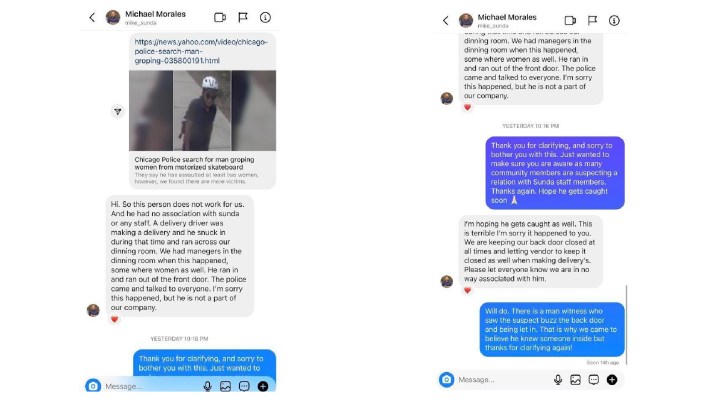 But Perrino said there was no delivery driver or truck in the alley when he followed the man. He reported the encounter to detectives.
In a statement on Tuesday, a Sunda spokesperson said the man was not an employee but declined to answer further questions.
"The individual is not an employee of Sunda, we have contacted the police," the statement said.
Police said they could not confirm details of the encounter with the man in Sunda.
Residents remain determined to find him. Ruhnke began posting flyers along areas of Lakeside Road, where he is thought to commute frequently.
"I don't trust the police to find him, I trust the community to find him. Since he's been on Nextdoor, he's been an incredible support system of people who are constantly looking for him," Ruhnke said.
Ruhnke and the victim who was attacked in the South Loop told the Block Club that they had trouble reporting their assaults to the police. Ruhnke said she was hung up several times when she called 311 before she could file a report. The South Loop victim said she was also suspended by 311 and her fiancé eventually drove her to the police station to report the attack.
Police officials did not respond to questions about victims having problems reporting assaults to 311.
Police are urging those with information about the assaults to call Area Three Detectives at 312-744-8261 and reference case numbers JF346444 and JF263556.
Listen to "It's Alright: A Block Club Chicago Podcast":